Asylum Is A Human Right Adult Capsleeve Tee
---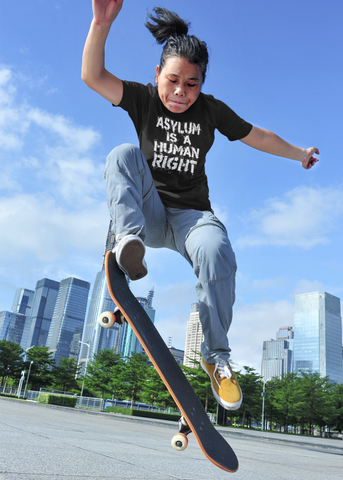 There is true dignity + value in every living being. Every life is intricately intertwined with all other lives + with Life itself. May we grow in grace + love to honor the courage, wisdom, + inalienable human rights of all. Refugees, immigrants + indigenous peoples often bear the hardest struggles, work the hardest + carry the deepest wisdom of the ages! May we fully respect, honor + love our fellow human beings. There is no them, we are all us! For those whose hardships have been greatest, ASYLUM IS + MUST REMAIN A PROTECTED HUMAN RIGHT WORLDWIDE!
With each shirt purchased, at least $10 will be donated to support progressive organizations doing the great + good, world-bettering work to promote peace, social justice, human + animal rights + mindful wellness on a liveable planet.
Power The Fight to honor the dignity + protect the rights + freedoms of Dreamers, refugees, immigrants + indigenous people worldwide!
Available in black with white lettering printed on the front.
Related Products
---